The Wednesday Word, October 26, 2016: Victory in the Blood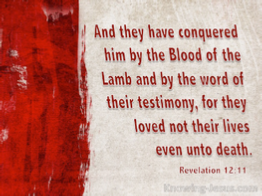 And they overcame him by the blood of the Lamb, and by the word of their testimony, and they loved not their lives unto the death.
Rev 12:11
When sins devastate our communion with God, there is only one thing powerful enough to overcome all the accusations from Hell, …the Blood of Christ. This is how we overcome. As John Newton wrote,
"Be Thou my shield and hiding place,
That, sheltered near Thy side,
I may my fierce accuser face,
And tell him Thou hast died!"
As we grow in grace, we learn that, in failure, we have new opportunities to become conscious of the blood. When we look to the past, we see the blood. When we think of the present, we see the blood. When we think of the future, we see the blood. When Satan tells us of our defeat, we tell him of his. When he tells us our past, we tell him his. We boldly announce to him that Christ shredded and scattered his demonic troops at the cross, 2000 year ago. We remind him that he was defeated by the blood of the Lamb. We overcome by the blood when we declare what the blood has done. Our Victory is in the BLOOD.
Every spiritual blessing is in Christ! Try this one for size! Though sinners, we are entitled to plead "not guilty" to every charge. Why? Because of the blood. To do anything else would be to deny the reality of the Blood. Though we are guilty, our conscience is as completely at peace. We have learned to apply the Blood. No wonder we can now walk in victory! No longer are we pinned down by the accusing memories that fill us with remorse.
Do you remember the blood offering of Leviticus 4? It was to take care of any sins that were committed through ignorance (Leviticus 4:2). Many believers go about worrying about whether or not they are doing okay. They say to themselves, "Maybe I have not done enough good things?" or ask themselves, "Have I witnessed enough?" or "Have I prayed and given enough?" They are always worried about these things.
But, when Jesus Christ died on the Cross, His blood took care of all the sins that we know about and all those that we don't know about. He has taken care of all the sins that we have ever and will ever commit. Knowing and applying this brings victory.
When Jesus Christ died and shed His blood, He took care of our sin and our sins. Notice, I said sin (singular) and sins (plural). His Blood legally blotted out our sin nature and covered our sins by casting them into the sea of God's forgetfulness (Micah 7:19).
"Blessed are they whose iniquities are forgiven, and whose sins are covered. Blessed is the man to whom the Lord will not impute sin" (Romans 4:7-8). In the Gospel, both sin and sins are dealt with.
Jesus Christ has forever taken care of the sin nature of man by being reckoned as sin and paying the penalty of sin with His blood on the Cross. Jesus, the man, was considered as sin so that we will never have our sins charged to us again. That is victory!
And that's the Gospel Truth!
The Wednesday Word, November 9, 2016: Gospel Rest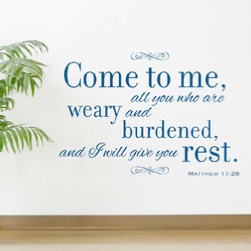 "Come unto me all you that labour and are heavy laden and I will give you rest" (Matthew 11:28).
As usual, Mr Spurgeon nailed it when he said of this scripture, "There are mines of instruction in this tverse. Superficially read, this royal promise has cheered and encouraged tens of thousands, but there is a wealth in it which the diligent digger and miner shall alone discover."
Let's then, go mining and see if we can scratch the surface of this marvellous truth.
Who issued the invitation to, "Come unto me?" Was it a psychiatrist? No! Was it a politician? No! It was the lovely Son of God who voiced these words. And who is He? He is the God/Man, the Eternal Word made flesh. He has come to us in our need and invited us to come to Him.
This verse wonderfully demonstrates Christ's compassion for His people. He loves us. His love, however, is not the kind of love that wants to help but has no available resources. It's quite the opposite. His is the love of Omnipotence. And what is the message of Omnipotent love? It is simply this, "Rest in Me."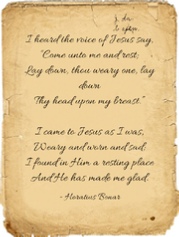 Are we weary? Then let us come to Jesus and rest.
Disappointment will make us weary.
A broken heart will make us weary.
Sin will make us weary.
Working to gain God's acceptance will make us weary.
Legalistic religion will make us weary.
To be weary means to be worn down with burdens or to be exhausted. Does that describe any of us? How desperately we need to hear Him say; "Come to me."
Listen, He's not angry at you. He loves you! Hear His voice in the Gospel. There's rest for you. Don't let unbelief keep you from His rest. How could someone who has gone to the cross for us not care for us? He was wounded and butchered for us. As believers, He wants us to come to Him.
So what qualifies us to come to Him?
It's our weariness, not our worthiness!
It's His mercy, not our merit.
It's our destitution, not our distinction.
It's our hardship, not our holiness.
It's His love, not our labour.
As believers, we have no need to drag ourselves around in abject misery. We learn to come to Him. To Him, and not to Moses! To Him, not to a favourite doctrine, an ordinance, priest or pastor. We come to Him, to Jesus Himself.
Let us come to Him for His gift of rest. Since rest is a free gift, it cannot be purchased or worked for. So then, how do we receive it! The answer is by faith alone.
Faith alone takes us to that rest. Faith alone sees that it is a rest received from the hand of the all-powerful God. It is a blood-bought rest. It is a rest bathed in love.
This rest is for the weary, for those who labour. It's for you and me because we need it. May we all become weary enough to discover Jesus as our resting place.
To conclude, why to thirsty people drink? It's because they are thirsty. Why do hungry people eat? It's because they are hungry. Why do people rest? It's because they are weary.
There is rest in knowing who Jesus is and what He has accomplished in His doing, dying and rising again. There is rest in understanding the cross. There is rest in the Gospel. There is rest because He shed His blood.
May we come to Him and enjoy Him and His rest.
I heard the voice of Jesus say,
"Come unto me and rest;
Lay down, thou weary one, lay down
Thy head upon my breast."
I came to Jesus as I was,
Weary and worn and sad;
I found in Him a resting place
And He has made me glad.
Horatius Bonar
And that's the Gospel Truth!
The Wednesday Word, November 16, 2016: Gospel Peace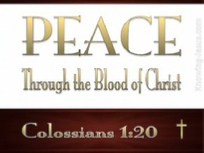 And, having made peace through the blood of his cross, (Colossians 1:20 a)
The blood of Christ gives us a profound insight into God's estimation of sin. God, being the God of justice, will by no means clear the guilty (Exodus 34:7). Sin has earned an awful debt, and all debts must be paid. We ought not to fool ourselves into thinking that God is some easy going, doddery, old grandfather who doesn't notice sin. He notices and has done so from the beginning. And because He saw our sin, the Lamb of God went to the cross with this scripture in mind, "It is the blood that makes atonement for the soul" (Leviticus 17:11). Because Christ poured out His blood, peace has now been established between God and us. Indeed, there is only one foundation for peace, and that is the blood of Jesus. To enjoy this peace, therefore, our daily spiritual occupation is to, "Behold the Lamb of God" (John 1:29). He is the one who has paid for and taken away our sin.
In Luke 15:2 we are told, "This man (Jesus) receives sinners." That means that, when we come to Christ our mercy seat, we are fully accepted, and the free gift of eternal life is ours. But you say, I don't feel that I have a right to go to Him, my sin 's too big! Well, it's your word against His. He says to come to Him, and he knows what He is talking about.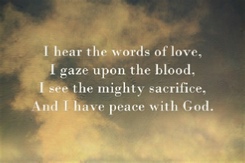 Old Tom Farrell, a Scottish blacksmith, had lived a God-defying life. But, in His mercy, the Lord brought him to trust in Christ alone. Some years later, he was on his death bed, and his wife asked him if he were scared to die. He looked at her, smiled and then said, "What would I be afraid of? I'm going to be with the Man who died for me." Old Tom knew that peace had been made by the blood.
God's grace is demonstrated to us through the shed blood of our substitute. In the Old Testament, the High Priest came to the Mercy Seat with the blood. In bringing the blood, he was confessing that both he and the people were sinners. When he came with the blood, he found God waiting to be gracious. Was God gracious because the High Priest confessed everyone's sin? No! God's graciousness flowed because the demands of His justice had been met by the blood of a substitute. Because of the blood, there never was a flash of angry lightning there. Because of the blood, there never was one faint rumble of wrathful thunder there. Because of the blood, God looked and seemed to say, "I am well pleased with the blood of this substitute because it points towards the blood of my Son. Because of My Son, I will spare sinners."
Not only did God gaze upon the blood, but the High Priest, as representative of the people, also fixed his eye on the same blood that lay on the mercy-seat. As he stood gazing on the blood, it was as if he said, "Lord, there is my death and the people's death for each sin; there is my wrath offering; there is your law's demand."
And this is the position of all believers. Our eye is on Jesus, the Christ who was crucified. Our hearts believe that because of the blood, God has given us eternal life (1 John 5:11). Because of the blood, our mouths boldly confess, "Christ is the end of the law for righteousness to everyone that believes" (Romans 10:4). In other words, the believer is free from having to present His strenuous efforts at law-keeping as the method of gaining favour with God. The law, as a means of saving righteousness, is now obsolete. There is no peace, therefore, available to the man who tries to establish his righteousness other than by the doing, dying and rising again of Christ.
I hear the words of love,
I gaze upon the blood,
I see the mighty sacrifice,
And I have peace with God.
TheAnd that's the Gospel Truth!
The Wednesday Word, November 23, 2016: The Genuine Gospel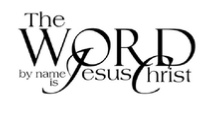 The apostle Paul, in defining the gospel in 1 Corinthians 15:3-4 begins by saying, "How that Christ." The authentic Gospel, as opposed to the many false ones (Galatians 1:6-7), was concerning a person, Jesus Christ (Romans 1:1-3). The apostolic Gospel is about Christ Jesus, His doing, dying and rising again. Well, of course, we all say 'amen' to that. But, if this is so, we need to realize then that the Good News is not about us…it's not about you and it is not about me.
If this is so, the Gospel is, therefore, not about Jesus coming into our hearts and making us new. Neither is it about our spiritual growth nor our spiritual development. The believer, his progress, and welfare, are not the focus of the Gospel. The pure, apostolic Gospel puts the Lord Jesus Christ firmly on center stage. In the Gospel, the spotlight is on Jesus, not upon the believer. Of course, we believers enjoy the benefits of the gospel such as acquittal from all charges of sin, reconciliation, adoption, new life in Christ, etc. But the Gospel is neither about our new life nor what we are doing nor about how saved we are; the Gospel is about the great and glorious acts of God in the Lord of history,--Jesus the Christ.
Although Christ perfectly represented us as our substitute in His life, death, burial, resurrection, ascension and session, the Gospel is not about us. The Gospel, on the other hand, is primarily the good news of who Christ Jesus is and what He has done and accomplished in history. It is not about the mercies we receive as a result of the Gospel. Christ Jesus and His finished work are the centre of the Gospel. The erudite 19th century Episcopalian Bishop of Ohio, Charles McIlvaine, said it like this;
"But it is abundantly clear from the Scriptures that the Apostles identified the Gospel with Christ; so that, in their view and practice, to preach the Gospel was neither more nor less than to preach Christ. The record which, in a few words, describes their ministry is that, "daily in the temple and in every house, they ceased not to teach and preach Jesus Christ." Paul to the Romans defines the whole Gospel by saying that it is "concerning Jesus Christ." (Rom. 1:3). The employment of his two years' imprisonment at Rome was all comprehended in "teaching those things which concern the Lord Jesus." And his whole ministry was given unto him, he testifies, that he "might preach the unsearchable riches of Christ." As he could say, "For me to live is Christ;" so for him to preach was Christ. To him, Christ and the Gospel were one.
(Charles McIlvaine: Preaching Christ)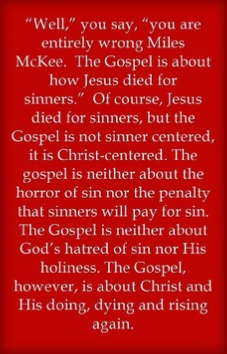 "Well," you say, "you are entirely wrong Miles McKee. The Gospel is about how Jesus died for sinners." Of course, Jesus died for sinners, but the Gospel is not sinner centered, it is Christ-centered. The Gospel is neither about the horror of sin nor the penalty that sinners will pay for sin. The Gospel is neither about God's hatred of sin nor His holiness. The Gospel, however, is about Christ and His doing, dying and rising again. Yes, it is true that the Gospel only really makes sense when the Holiness of God and the horrors of sin are understood, but the holiness of God and the horrors of sin are not the Gospel. The power of God will regenerate us, the goodness of God will lead us to repent and the love of God will melt our hearts, but our repentance, regeneration, and melting of heart are the result of the Gospel and not the Gospel itself!
And that's the Gospel Truth!
Wednesday Word, November 30, 2016: Jesus our Gospel.
Jesus is our Gospel. He is Heaven's good news. To put it another way, the Gospel is God's good news about Himself revealed in His Son. The Gospel brings, not only good news about what God has done for us but also gives us good news about God Himself. Because of the Gospel, we can learn about the very character of God.
For example, we would not realize how much God hates sin if it were not for the cross. It is the Gospel, in fact, which best illustrates His awful and intense abhorrence of sin. There is nothing in the entire universe that reveals God's holy wrath against sin more than the blood of Christ. Think about it. There was no other way for the Lord to save us but by the blood. The horror of our sin is seen in that the sinless, spotless Lamb of God offered Himself and poured out His blood as our substitute.
Christ died for our sins (1 Corinthians 15:3)! Death, of course, is not always bloody. You can die without losing your blood. But Christ not only died, He shed His blood. Blood is the sign of violence. You see, the death of Jesus was not just a mere passing away – a dying of old age on a comfortable bed. No! It was a violent death. It was a bloody, gory, ugly, revolting scene -- a man hanging torn and wretched upon a cross, with blood streaming down His sides and running down His face.
Lets never forget that the God who is love is the God
who is holy. As Dr. Barnhouse said:
"If you say that God is love without realizing that God is hate of sin you have no Gospel at all because you do not have God. The people who teach that God is love without teaching that God is also hate of sin have in reality another God who is Satan with a mask on."
Donald Gray Barnhouse
Commentary on Romans
In the Old Testament Temple, God demonstrated His hatred of sin in the daily sacrifices. God, being Holy, can no more endorse sin than He can commit it. But, these sacrifices were merely shadows of the reality which was to come. Only in the Gospel do we see the fulfillment of these Old Testament types. Only in the Gospel are we caused to face the horror of sin.
God spared not His Son but delivered Him up as an offering which took away holy wrath. Christ, as the Puritan, Stephen Charnock, said: "hung on the cross like a disinherited son while he appeared in the rank and garb of a sinner."
Hanging there, the Lamb who knew no sin, called out and cried, "My God My God why have you forsaken me." By the way, this is the first time in His ministry that Christ had ever called the Father by the title of 'God.' All through His life, he had called God His Father. But there at the cross, Christ took the place of His sinful people taking their sin and all the separation that goes along with it. Listen to Him cry out in tortured agony, "My God my God why have you forsaken me?" Had there been another way to reconcile us do you not think the Father would have taken it? The cross was awful; it was scandalous! Yet, it reveals the heart of God, not only in His deep love for us but also in the deep hatred of sin which so offended His holiness.
And that's the Gospel Truth!
The Wednesday Word, December 7, 2017: Saved in the Past, Secured for the Future
As we read through the New Testament apostolic sermons, we discover that they always point back to events in the past. Those early, inspired preachers did not look to anything present tense as being the Gospel. From this, we learn that unless we are looking back and pointing to the redemptive events of the past, the Christ event, we are, in fact, not preaching the Gospel. Our message is not some vague philosophy about God, but rather a story packed with concrete, historical events and facts.
Here are the details; Christ lived; Christ died. Christ was buried; Christ rose again from the dead.
These are the significant specifics of the Gospel. They are events that have already happened in history. These facts are plain simple and few, so few that a child could remember and understand them.
The Gospel belongs to a completed history; its facts are not happening today. Christ is not on the cross, He is not atoning for sins, His work is finished; He is ruling and reigning that He might apply His entire accomplishments to His people. We are secure in Him! Because of the cross, He will come back for us (Hebrews 9:28; John 14:1-3; Acts1:11). We are safe!
As a result of this Gospel, this Finished Work, Christ is now seated at the place of cosmic authority. Now, based on His accomplishments in the Gospel, Christ Jesus is our, "Advocate with the Father." Talk about security!!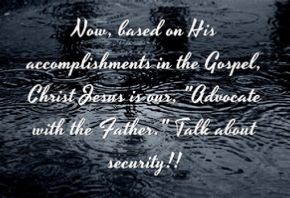 BTW, since the Gospel concerns that which has happened in the past, it makes our job very easy. To share the gospel all we have to do is tell the story -----the story of the doing, dying and rising of Christ. We don't even have to tell our listeners to do anything because the minute we go to the realm of 'do,' we are not preaching the Gospel. Of course, we will eventually bring the hearers to the "Do" stage, but asking them to "do" something is the application of the Gospel and not the Gospel itself. For example, if we preach all night on repentance; then all we've done is preach all night on repentance. We've not preached the Gospel since we've not preached a past historical event. If we preach repentance, we're preaching what should be a necessary application of the Gospel, but how can we have anyone repent and exercise saving faith unless they first hear the Gospel (Romans 10:14-15)?
In the 1620s a fierce preacher, John Glendinning, preached the law and dread of God to his listeners in Sixmilewater, County Antrim, Northern Ireland. By all accounts, his hearers were cut down in terror and actually swooned with fear----but they did not get saved. They believed every word Glendinning said, but because the Gospel had not been preached, they remained lost. Another minister, Robert Blair was then sent into the area, and he preached the saving acts of God in Christ, and the poor tormented souls got saved.
It is vital that we grasp the 'pastness' of the Gospel because, since the Gospel is a past historical event, it cannot be experienced. The Gospel is uniquely about Christ's unrepeatable experience. It is not about my experience or your experience. His life was the only one of its kind. He will never repeat His accomplishments or death. The Gospel is uniquely about the experiences of the Divine/Human Saviour, Jesus Christ. As He hung upon that never to be repeated cross, the experience was uniquely His. We can look back to that event and fully identify with it, but we cannot travel back in time and climb on the cross with Him. We can, however, by faith, receive all the Gospel benefits He obtained for us, but we cannot experience the Gospel. We can only experience its benefits.
And that's the Gospel Truth!
The Wednesday Word, December 14, 2016: Gold, Frankinsense and Myrrh - Deity, Devotion and Death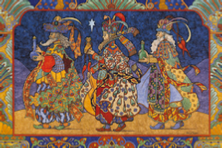 "And when they were come into the house, they saw the young child with Mary his mother, and fell down, and worshipped him: and when they had opened their treasures, they presented unto him gifts; gold, and frankincense, and myrrh."
Matthew 2:11
We may not know much about the Wise Men who journeyed to give gifts to Christ, but their generosity tells us much about the young child.
The first thing they gave was gold and gold speaks of Deity. We see this in the Old Testament where the boards of the Tabernacle were covered with this precious metal. The Ark of the Covenant was overlaid with gold. Also, when heathens made images of their gods they usually fashioned them out of gold. The essential symbol identifying a king was a golden crown on his head. Christ is the King of Kings (Revelation 17:14). Being the King of Kings, it means simply that Christ is God. He is King of all. Gold, therefore, was a fittingly appropriate gift.
Yes,indeed, gold spoke of majestic Deity. How telling that these Medes and Persians should bring gold to the Young Child. I think these sages knew the ancient prophecy which foretold that this baby should be offered the gold of Sheba. I suspect they comprehended that kings should bring the young Messiah the riches of the Gentiles (Psalm 72:15). How fitting that He who is God manifest in the flesh should be given gold.
The next precious thing they gave Him was Frankincense … All through scripture, frankincense was used in worship, especially in the daily Temple worship. (Exodus 30:34, Leviticus 2:1-2, 14-16).
The Wise Men came to Jesus and worshiped. What an opportunity we have to worship our majestic priest upon His throne. May we learn to sing in our hearts, "Unto us a child is born; unto us a son is given and the government shall be upon His shoulder and His name shall be called, Wonderful, Counsellor, the Mighty God the Everlasting Father."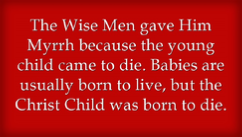 The third gift they gave was Myrrh. Myrrh speaks of death. What a strange gift to give a child! Myrrh was a spice used in embalming. The Wise Men gave Him Myrrh because the young child came to die. Babies are usually born to live, but the Christ Child was born to die.
John Stott in his book, 'The Cross of Christ' reminds us that Holman Hunt has a famous picture of Jesus. It depicts Him at the door of the carpenter's shop in Nazareth. He has come to the door to stretch his limbs which no doubt had grown cramped over the bench. He stands there in the doorway with arms outstretched, and behind him, on the wall, the setting sun throws his shadow, and it is the shadow of a cross.
Holman Hunt was correct: Christ lived in the shadow of the cross. Here, at His birth, the Wise Men brought Him myrrh …a picture of His suffering and death. There is much to learn from the gifts of these Magi. They gave Him gold… a sign of His Deity. May we never forget that the young child was God with us, Emmanuel! They gave Him Frankincense, a symbol of their devotion. And they gave him Myrrh…a prophetic picture of His Death.
Gold, Frankincense and Myrrh…Deity, Devotion and Death
When we understand who it was that came …..The eternal God. And when we grasp that he came to redeem us with His precious blood, we are transformed into devoted worshipers. When our devotion dries up it is usually because we have forgotten Christ's Deity and His Death.
And that's the Gospel Truth!
The Wednesday Word, December 21, 2016: Wonderful Christmas Grace
"And His name shall be called Wonderful …" Isaiah 9:6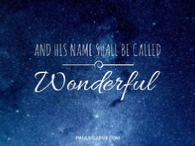 For this next few moments, let's consider Jesus. He is Wonderful. In Judges 13, when the angel of the covenant appeared to Manoah, Manoah asked Him, "What is Your name?" (BTW, the angel of the Lord was a pre-incarnate appearance of Christ). The messenger replied, "Why do you ask my name, seeing it is secret (literally, wonderful)." By this, the "Angel of the Lord" identifies Himself with the baby who was to be born to redeem.
"Wonderful" comes from the root word "wonder." It can also be translated as 'amazing,' 'surprising,' 'astonishing' or 'awe-inspiring.' Jesus is all these things! Does Jesus bring wonder to our lives? This Christmas season, may we find things wonderfully surprising, wonderfully strange and wonderfully astonishing in Him?
There has never been anyone as wonderful as Jesus. Think about it, He's either wonderful or arrogant.
He came and pointed out our sins but acknowledged no sin of His own. Is that arrogant or wonderful?
He claimed to not only be sinless but also to be the Saviour from sin. That's either arrogant or wonderful!
He came and told us we must repent but had no repentance of His own…that's either arrogant or Wonderful.
He tells us that we are sick and that He is our physician….That's either arrogant or Wonderful!
He tells us that we are His sheep and that He is our shepherd… That's either arrogant or Wonderful!
What say you? Is He wonderful?
In the annals of human history, there never was anyone like Him, and there never will be. He is called wonderful simply because there is no better way to describe Him! Please make a point to tell your friends, that He is wonderful! Email it! Post it online. Let everyone know that, "He is wonderful!"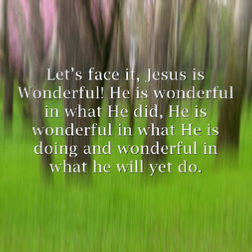 Notice in Scripture how we are called sheep (John 10:11-15). We are not called lions, we're too weak for that name. We are not called serpents; they are wise, but sheep are dumb. He doesn't call us dogs. If a dog gets lost, he often finds his way back home. A sheep can't do that. Sheep are weak and stupid and lose their way. But we have a shepherd whose name is wonderful. He knows how to find us. He's a shepherd who has a treasure house of wisdom and has all of the strength that we need." He is wonderful!
The word 'wonderful' is sometimes translated "marvelous or miraculous." Spurgeon says, "Christ is the marvel of marvels, the miracle of miracles."His name shall be called Miraculous," for he is more than a man, he is God's highest miracle. "Great is the mystery of godliness; God was manifest in the flesh." His Name --Wonderful!
(Spurgeon: Sermon Number 214: His Name shall be called Wonderful)
Let's face it, Jesus is Wonderful! He is wonderful in what He did, He is wonderful in what He is doing and wonderful in what he will yet do. It's no wonder then that John Flavel wrote of Him;
Out of His agony comes our victory;
Out of His condemnation comes our justification;
Out of His pain comes our ease;
Out of His stripes comes our healing;
Out of His gall and vinegar comes our honey;
Out of His curse comes our blessing;
Out of His crown of thorns comes our crown of glory;
Out of His death comes our life!
John Flavel (1627-91).
He is Wonderful!
And that's the Gospel Truth!
Go to:



The Wednesday Words for the Year 2016

To view article, click on title


Date

Title

01/06

01/13

01/20

01/27

02/03

02/10

02/17

02/24

03/02

03/09

03/16

03/23

03/30

04/13

04/27

5/18

06/01

06/08

06/15

06/22

06/29

07/06

07/13

07/20

07/27

08/03

08/10

08/17

08/24

09/07

09/14

09/21

10/05

10/19

10/26

11/09

11/16

11/23

11/30

12/07

12/14

12/21

The Wednesday Word, January 13, 2016: Gospel Fullness
In this Wednesday Word, I want to speak again about Jesus. May the Spirit of Lord raise up a generation of believers who will, above all else, speak of and love the Lord Christ.
Some commentators tell us that today's Scripture, Colossians 2:9, is an illusion to the Tabernacle in the days of Moses. It looked commonplace and ordinary on the outside, but inside it housed the very glory and presence of the Eternal God. So it is with Christ. Little did people know that the humble carpenter from Nazareth was indeed God manifest in the flesh.
May we all take the time to meditate on Him. The truth of Christ's identity is as overwhelming as it is staggering! He is both human and divine. The Fullness of the Godhead dwells bodily in Him.
Of course, Christ's enemies say that the word 'Godhead' does not actually mean Godhead: or they say that this verse means that it was merely the power of God which dwelt in Christ. It is astonishing to discover the hatred that men still harbour towards Christ and the truth of His dual nature. However, the Bible cannot be clearer on Christ's identity than it is in this verse.
Colossians 2:9, according to Calvin,
" … means simply, that God is wholly found in him (Christ), so that he who is not content with Christ alone, desires something better and more excellent than God. The sum is this, that God has manifested himself to us fully and perfectly in Christ."
Calvin's Commentaries: Colossians.
According to Benjamin Warfield, this verse means; "There is nothing in the God who is over all which is not in Christ." (Easton's Bible Dictionary - Godhead)
In Isaiah 11:2-5, we are given a prophetic picture of the Lord Jesus which conveys something of this fullness. There we read, "..and the Spirit of the Lord shall rest upon Him, the spirit of wisdom and understanding, the spirit of counsel and might, the spirit of knowledge and of the fear of the Lord; and shall make Him of quick understanding in the fear of the Lord:…."
What an astounding description of Jesus. Notice how Christ demonstrates the sevenfold Spirit of God!
The Spirit of the Lord.
The Spirit of Wisdom.
The Spirit of Understanding.
The Spirit of Counsel.
The Spirit of Might.
The Spirit of Knowledge.
The Spirit of the Fear of the Lord.
The fullness of the Godhead was and is indeed manifest in Him. The foundation of our faith then is that He who died on the cross was God incarnate. When we meet Christ Jesus, we meet with God in His fullness. This is the foundation upon which our eternal destiny is built. This is our security. The One who has lived, died and risen for us is Emmanuel, God with us. This is exceedingly good news!
"Mortals with joy beheld his face,
Th' eternal Father's only Son;
How full of truth! How full of grace!
When through his eyes the Godhead shone."
Isaac Watts
And that's the Gospel Truth!
The Wednesday Word, January 20, 2016: Glorious Gospel Grace!
Salvation is entirely by grace. It is both unearned and undeserved.
We are chosen by grace (Ephesians 1:4).
We are given to Christ by grace (John 6:37).
By grace, we are made alive together with Christ, (Ephesians 2:5).
He has glorified us by grace (Ephesians 2:6).
We are redeemed by grace (Ephesians 1:7).
We are justified by grace (Titus 3:7).
It's Grace! Grace! Grace from beginning to end.
It is clear that in Scripture, God does not give one iota of credit to man regarding salvation. It is all of grace! Amazing Grace. Glorious Gospel Grace. The making alive, the undeserved favour, the adoption as children into God's family is all by grace.
He made us accepted by grace (Ephesians 1:6).
We have forgiveness by grace (Ephesians 1:7).
Union with Christ and the good works that follow as God's purpose, after salvation (Ephesians 2:10), are all the gift of God! It's allofgrace!
It's no wonder then that Paul writes in Galatians 6:14; "But God forbid that I should glory, save in the cross of our Lord Jesus Christ, by whom the world is crucified unto me, and I unto the world."
To "glory" is "to boast." Paul is reminding us that we cannot boast in anything except the cross of the Lord Jesus. That's another way of saying that salvation has been accomplished by grace. All of our prosperity, all of our accomplishments, all of our doctrinal understanding, and even our accumulated insights are nothing to glory about. We can boast only in the grace of God as revealed in the person and work of our Lord Jesus Christ!
In the Old Testament, Jesus is the coming Messiah. He is the promise of grace In the New Testament, He is the realized Messiah, the true Promise of Grace apprehended.
Grace always brings us to Christ Jesus. He procured salvation for us. He Himself is our salvation. He Himself is the grace of God. Grace is embedded in His very name, for the name of Jesus, means salvation. Remember: "Neither is there salvation in any other: for there is no other name under heaven given among men whereby we must be saved" (Acts 4:12).
Grace brings people to Christ, and to no one else. Grace enables us to look unto Him by faith to be saved.
But what about repentance brother? Yes, what about it? Is that not important? Yes, it is! But let me ask you…from where do we get repentance? The goodness of God, exhibited in His Grace, leads us to repentance (Romans 2:4). There is no other way! Praise to His Name! It's Grace, Grace, Grace, Glorious Gospel Grace!
So we can say grace is:
Free Grace---the gift of God (Ephesians 2: 8-9).
Saving Grace---it brings us to eternal salvation.

Sovereign Grace—not of ourselves, but by God's sovereign will. Salvation is not of him that wills, nor of him that runs, but of God that shows mercy (Romans 9:16).

Sustaining Grace—We are kept by the power of God through faith unto salvation ready to be revealed in the last time (1 Peter 1:5).
And that's the Gospel Truth!
The Wednesday Word, June 1, 2016: Is Jesus Enough for Your Passion?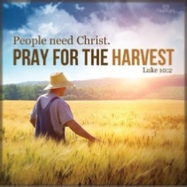 Wouldn't it be magnificent to be more like Jesus? Wouldn't it be wonderful to be as compassionate and loving as He is? Look at the Saviour and see the love that poured from Him. Look at Him, weeping over the lost in Jerusalem. So we want to be like Him? … Do we? … When is the last time we shed a tear for someone who was spiritually lost? Let's face it, many of us live and act like there is no Judgment to come for the unsaved. Are we praying for the Lord to show mercy to even one of our lost friends and family?
But Brother Miles, don't you believe the doctrine of unconditional election? Yes, absolutely! But sometimes I'm with Spurgeon, who quipped, "Lord save the elect and then elect some more."
All of us have been commissioned to spread the Good News, but many of us have no passion for doing so. We are like armchair spectators watching a football game. All of us have our opinions about how the game should be played and about the performance of the participants on the field. We, however, are fans, not players.
Reality Check! Jesus doesn't want any more fans. He wants players … people passionate about the Gospel. He wants workers who, with their hearts, are involved in His harvest. Jesus said it like this, "The harvest truly is great, but the labourers are few: pray ye therefore the Lord of the harvest, that he would send forth labourers into his harvest" (Luke 10:2).
The Greek word to 'send forth', in this verse, means to compel, to command, to draw out with force or to lead with an irresistible force. We are, therefore, to pray that workers will be thrust out into the harvest. But we can't pray like that with any honesty if we treat the cause of the Gospel as a spectator sport.
But, we don't like to get over-zealous. It causes too much inconvenience.
Yet, we say, we want to be like Jesus. Look at our Master, He was totally set apart to His Father's will. He was tireless in bringing the good news. He was passionate for the Kingdom. Look at Him with His nights of praying and days of fasting. Have we ever wanted to walk in those steps?
So let's state the obvious, followers follow! But, for many who name the name of Christ, Jesus doesn't seem to be enough. There is no passion for Him!
So, where do we get this passion? Here's the answer. Take time alone with the Lord Jesus. Go into your room and shut the door (Matthew 6:6). Get alone with Him and His Word and get thoroughly acquainted with Him and His Gospel. Of course, you can survive with the 'here a little, there a little' prayer life, but Jesus will not become your passion.
Concerning prayer, Horatius Bonar said,
"Talk everything through with Him. Pour your heart out to Him- every thought, feeling, wish, plan and doubt. He wants, not merely to be on 'good terms' with you, but to be intimate. Are you going to shun the intimacy, and be satisfied with mere acquaintance? What! Intimate with the world, with friends, with neighbours; but not with Jesus! How strange! It is sheer foolishness to prefer the clay to the potter, the marble to the sculptor, this little earth and its lesser creatures to the mighty Maker of the universe, the great 'All and in all!"
It's easy to let our hearts grow icy. However, we can go straight back to Jesus with our cold, cold hearts, and warm them there. There's no condemnation, only a welcome. He knows us, He knows our names, our character, our problems with sins, our fears, our deepest thoughts, our troubles, our trials and temptations. The Good Shepherd knows us well yet He has taken a profound and irreversible interest in our welfare.
Jesus Himself wants to become our passion. Whatever it is that prevents us from being zealous for Jesus, may we take it to the cross and leave it there. May we look, by faith, to our High Priest to apply all the benefits of His Calvary victory to us.
Is Jesus enough? Yes indeed, He is enough.
And that's the Gospel Truth!
The Wednesday Word, June 8, 2016: Is It Enough to Be His?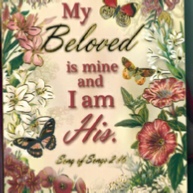 "My beloved is mine and I am His" (Song of Songs 2:16). What a verse! What a truth. 'We are His!' Just to know that He is mine doesn't do it for me. Why not? Because I am in the habit of losing things that are mine. But Jesus has never lost anything that is His. We are His! We are safe.
But how did we become His?
We became His because He created us (John 1:3). We are His because the Father gave us to Him as a gift (John 6:37). We are His because He bought us (1 Peter 1:18). We are His because He found us (Luke 19:10). We are His because He conquered us (Colossians 2:13). We are His, not because of our performance, but because of His grace (Ephesians 2:8).
Our sufficiency is in Christ alone! He is enough? Poor old Job would have utterly fainted had he not believed that He belonged to the all-sufficient Lord. There was once a time when Job could talk about everything that he had. He could boast about his, health, wealth and children, but there came a time when, suddenly, they were all gone. He had nothing left but the Word of the Lord and the Lord of the Word. He had lost everything, but still could say, "I know that my Redeemer liveth' (Job 19:25).
Is Jesus enough for us? We have redemption through his blood, even the forgiveness of sins (Ephesians 1:7). Is that enough? We have His precious promises (2 Peter 1:4). Are they enough? He has promised, "Come unto me and I will give you rest" (Matthew 11:28). Is His rest enough? What more can He do than that which He has done? Is there something else we want to add to Him to find fulfillment?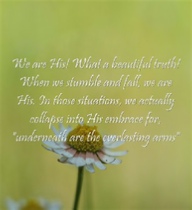 We are His! What a beautiful truth! When we stumble and fall, we are His. In those situations, we actually collapse into His embrace for, "underneath are the everlasting arms" (Deuteronomy 33:27). His arms are almighty, they catch, hold, strengthen and restore us. He is our source, safety and salvation. He is enough!
When we fall, the everlasting arms catch us. And, it is in that fall that we realize, were it not for His grace, our destiny would be Hell and destruction. We apprehend that, in spite of our new life as Christians, we remain, at best, sinners saved by grace.
So, let me get personal and ask, have you fallen? Have you fallen badly? Does that mean then you are now finished as a believer? Has God forgotten to be gracious? Has He turned His back on you? No! You have fallen into His everlasting arms! Let Him teach you, therefore, the horror of your sins, let Him show you your nothingness; let Him strengthen you and demonstrate the power of His might. Don't be dismayed under the sense of our own vileness and insufficiency. You are in His arms now! You are His! He will restore you and make you stand.
Perhaps you are struggling with the wretchedness of sin right this second! Look up and see, Jesus sitting majestically, robed in love, upon a throne of Grace. He is your King! Look again and see that He is your advocate who pleads your cause. Look again and see those the everlasting arms of sovereign power.
What authority then can snatch us out of those arms? What force can undo our reconciliation? What power can unfasten our redemption? What foul spirit can defy the Holy Spirit? "The eternal God is our refuge:" He has surrounded us with His grace, love, might and power. Is this enough for us? May we purpose today to walk into freedom, thankfulness and joy. Jesus is enough!
And that's the Gospel Truth!
The Wednesday Word, October 19, 2016: Beware of Imitations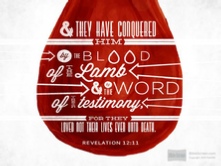 And they overcame him by the blood of the Lamb, and by the word of their testimony; and they loved not their lives unto the death.
Rev 12:11
The first thing the blood of the Lamb signifies is the death of the Son of God. Our Lord was not only bruised for our iniquities He was also put to death. As He took away our sins, His blood flowed at Calvary. His death is now our victory, our life, and our acquittal. It is the end of our rejection and the securing of our eternity. But beware of imitations. We don't need Christ the good example. Christ the good example saves no one. If the Christ we believe in is not the Christ of the Cross, He is not the saving Christ who saves by blood. When we read the phrase, "The blood of the Lamb," we are instantly reminded of the real Christ, the substitutionary sacrifice. His death was ours for He died, the Just for the unjust, to bring us to God (1 Peter 3:18). In the Old Covenant, the sinner brought the lamb and the lamb died in His place. The Lamb was the sinner's substitute. Today, as we, by faith, bring the Lamb to the Father, we discover that it is the Lamb who actually leads us to God.
As believers, we have the privilege to tell the story that God was manifest in the flesh (1 Timothy 3:16). We are blessed to be able to tell of how He became one of us, a genuine human and died for human sin. In His death, He did not merely make it possible for God to forgive us but He secured forgiveness for all His people. He did not die to make His people saveable, but to actually and definitely save them. Christ came to put away our sin by the sacrifice of Himself (Hebrews 9:26). As He died on the cross, He "finished transgressions, made an end of sin and brought in everlasting righteousness" (Daniel 9:24). What a Victory! There is now, therefore, no condemnation to those who are in Christ Jesus (Romans 8:1).
None! This is good news and music to our souls.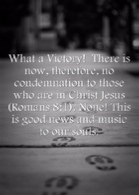 Frederick A. Tatford tells of how at a great Parliament of Religions, held in Chicago many years ago, practically every known religion was represented.
During one session, Dr. Joseph Cook, of Boston, suddenly rose and said: "Gentlemen, I beg to introduce to you a woman with a great sorrow. Bloodstains are on her hands, and nothing she has tried will remove them. The blood is that of murder. She has been driven to desperation in her distress. Is there anything in your religion that will eliminate her sin and give her peace?" A hush fell upon the gathering. Not one of the company replied.
Raising his eyes heavenwards, Dr. Cook then cried out, "John, can you tell this woman how to get rid of her awful sin?" The great preacher waited as if listening for a reply. Suddenly he cried, "Listen. John speaks: 'The blood of Jesus Christ, His Son, cleanseth us from all sins' (I John 1:7)."
Not a soul broke the silence: the representatives of Eastern religions and Western cults sat dumb. In the face of human need, the Gospel of Jesus Christ alone could meet the need. Sin demands blood. Christ provided it.
And that's the Gospel Truth!